Interview with Sathya Ranjana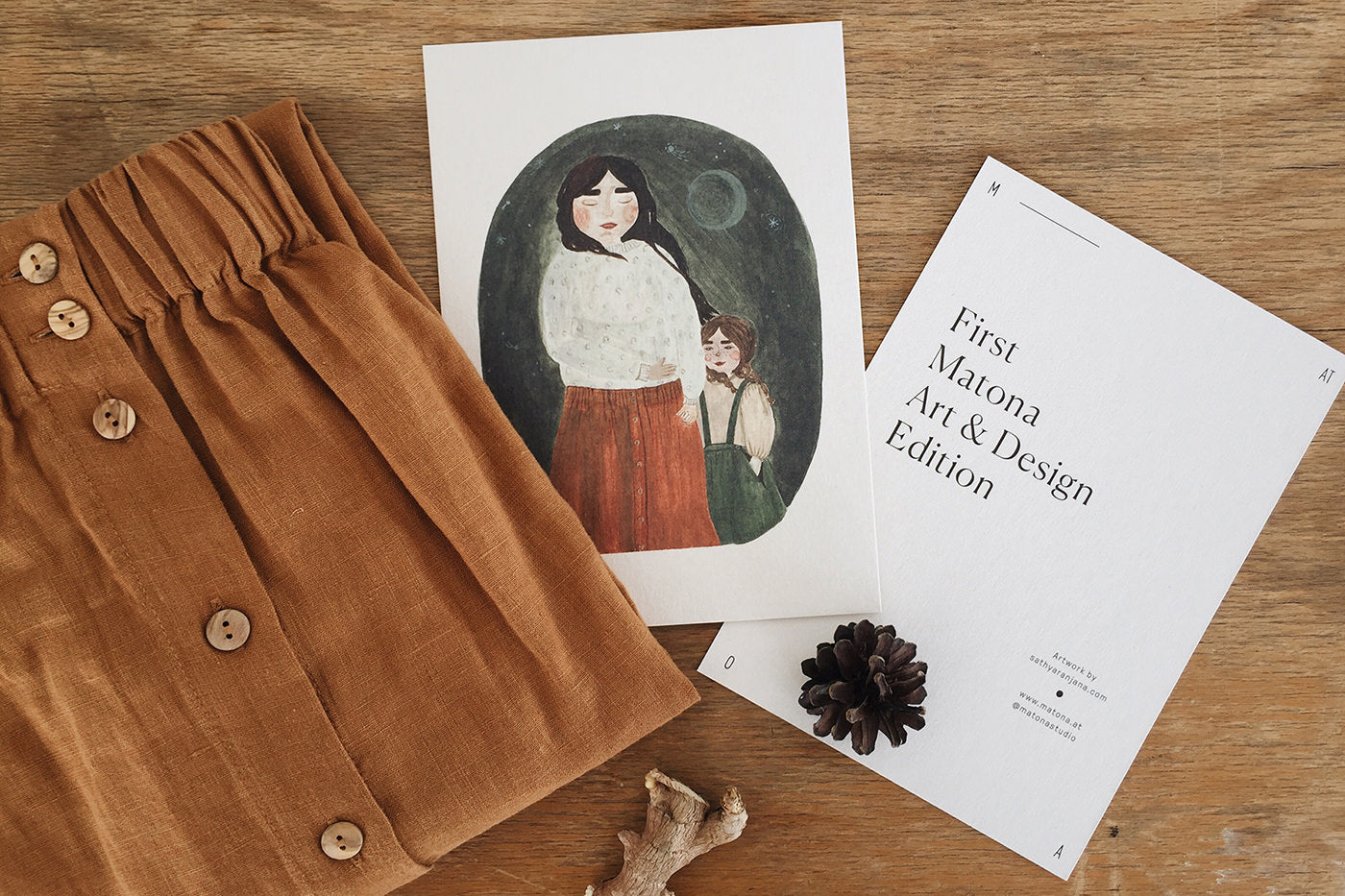 Insights into the world of illustrator Sathya Ranjana
A Matona Interview
1. Maybe you can very briefly describe who you are, what you do, where you live, ...
Hello, I'm Sathya, illustrator from the south of Germany. But maybe we just start where it all began....

I was born and raised in a tiny village in Bavaria, there was an old mill and our apartment used to be a stable. My parents had a joint knitting label for children and adults and their studio was in the same house, which contributed to me always spending time there among the wool, fabric panels, buttons and other materials.

Fortunately, other families lived in the few surrounding houses and we children were able to move very freely there - surrounded by meadows, forests, our favorite stream and many animals. This opportunity to experience nature with all my senses is one of the factors that strongly influenced my life. I remember many balmy summer evenings when we watched lots of fireflies, looking up at the sky together sitting around the campfire to count shooting stars, dancing in the rain, wind and thunderstorms, exploring the woods, freezing cold down on the frozen creek....

Even as a child, I was a person who absorbed the moments and moods around me, and many pictures and stories came out of that. This is definitely a characteristic that has accompanied me for a long time. And later, after my studies in Munich and Denmark, I turned it into my profession. Today I am an illustrator/artist and a mom myself.

I love to capture exactly such moods in my pictures - a journey where time doesn't matter...between yesterday and today, heaven and earth, the magic of small moments....

My husband is a mountain guide and we live together with our two sons in the Bavarian foothills of the Alps, where we also like to travel together in the mountains. I know no other place where you have so much time to listen and tell stories to just enjoy the moment in the here and now.
We are SO happy to share this interview with talented illustrator Sathya Ranjana with you. She designed a beautiful card for us that was printed in limited edition and will be included with all orders for a while. Thank you Sathya!
2. Who and what have influenced you in the development of your style? How would you describe it?
I think one of the biggest influences every day is the nature that surrounds us. I am always impressed what treasures are hidden there. For me, our earth is the greatest artist of all. And we are lucky to live in a beautiful place.

Also, I was involved with fashion from a very young age through my parents' work, and later professionally myself... This influence is also noticeable in my paintings... I love creating the clothes that are worn there.

And of course all the wonderful books that have accompanied me in my life and still do...by various great writers and artists. Music also accompanies and influences me a lot when I work. My style I would describe as soulful, deep, calm and grounded.
3. How has your work changed since you had children?
That's an interesting question... because I think my work has changed a lot since then. I would even say it's one of the most influential factors of all... as a mom, bit by bit you come more and more to yourself, you are more grounded and more in the here and now... at least that's how I feel. It's definitely a great treasure and an enrichment for my work... Because all the feelings I get to experience through the relationship with my children flow into my pictures.
Then there is a very pragmatic additional point - I work more effectively than before :-)
When the time is available, I take advantage of every moment.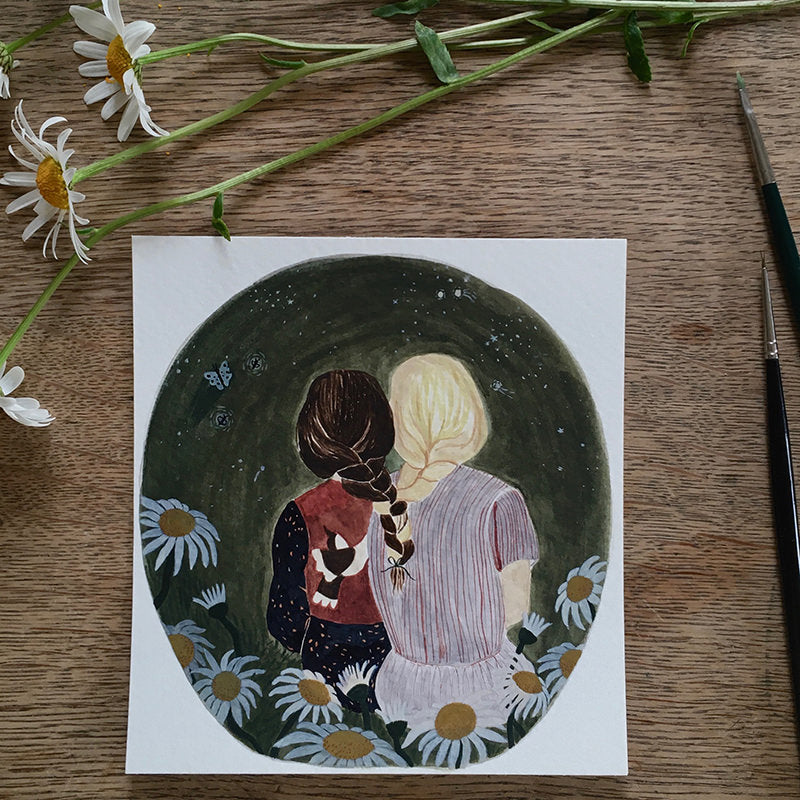 ...to the finished illustration
View on the packaging table
4. Do you have a routine for your everyday (work) life? Can you describe it?
To be honest, there is no real routine in this point... the things that are pending are simply too different. The best start is when we can all have breakfast together. But often my husband is already at work or away on business for a longer period of time. Our children are in the forest kindergarten, although the younger one is only in a smaller group twice a week. That means I often have to look very spontaneously in which time slots I can get to my work. When my husband is there, it is of course easiest and at times I am able to work together with the children in a concentrated way. I then often postpone the rest until the evening after putting them to bed.
5. Are there any new ideas you're working on right now?
Yes there are... Ideas are always many... only I still lack the additional time, for the implementation.
For this fall was actually also an exhibition in Vienna planned, on which I was looking forward to very much... Due to the situation that has arisen through Corona, we currently do not know, unfortunately, whether it can take place as planned...
But if there is news about it, I will definitely tell you on my Instagram page.